Feb 7, 2019
Hope in the Midst of Displacement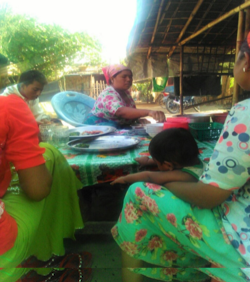 When violence broke out in the state of Rhakine, Myanmar in 2012, the poorest state in one of the least developed countries in the world, hundreds of thousands of people were forced to flee their homes. Be Be Gyan and her family had to seek refuge in a camp for Internally Displaced People (IDP) called Thae Chung.
Back in 2010, Be Be had lost her husband in an accident and was left to raise her young children. When they arrived at Thae Chung IDP camp, she struggled to provide enough for her family to survive. She started selling simple food items together with her mother and her eldest daughter, who had to leave school to help.
Be Be still struggled to support her family, and felt she needed to have a wider variety of food options to increase her income. She heard about an opportunity to receive training through CLWR partner, Lutheran World Federation (LWF). Through LWF, people affected by the crisis were empowered with skills and support to develop stable incomes. The initiative focused on the most vulnerable people in the IDP Camp, especially women like Be Be who were struggling to provide for their families.
People who had fled to the IDP camp and members of the local host communities received training and support for a variety of businesses including dress-making, crab fishing and more. While the primary goal of the project is to give participants more dignified lives through self-employment, it also seeks to build peace among IDPs and host communities.
For Be Be, that meant training and support to expand her food business. Today she is able to better provide for her family thanks to the small shop she runs, where her income has almost doubled.
- Tatenda Gurure
Photos: LWF Myanmar
To donate to our Training and Skill Development Program in Myanmar, click here