Inspired by God's love for the world, CLWR challenges and responds to the injustice which causes human suffering and poverty. We are committed to working alongside our partners to build resilience through a continual shared learning approach. As an international relief and development agency of the Lutheran communities, CLWR provides opportunities for Canadians to respond to national and international needs.
A healthy and sustainable world where people live in peace with hope, justice, dignity and equality.
Accountable partnership: God calls us to work together. CLWR works in partnerships. CLWR reflects intentional and respectful collaboration, mutuality, accountability and transparency.
Stewardship of creation: The earth is a gift from God entrusted to our care and nurture. CLWR strives for the sustainable use of Earth's resources in order to support abundant life for all.
Compassion & justice: God calls us to show compassion and seek justice. CLWR responds in love to people who are suffering unjust or challenging political, social, economic and environmental circumstances.
Dignity & respect: Created in God's image, all human beings have value and should be treated through word and action with dignity and respect. CLWR supports vulnerable individuals and communities in striving for human rights and a sustainable future.
Our strategic compass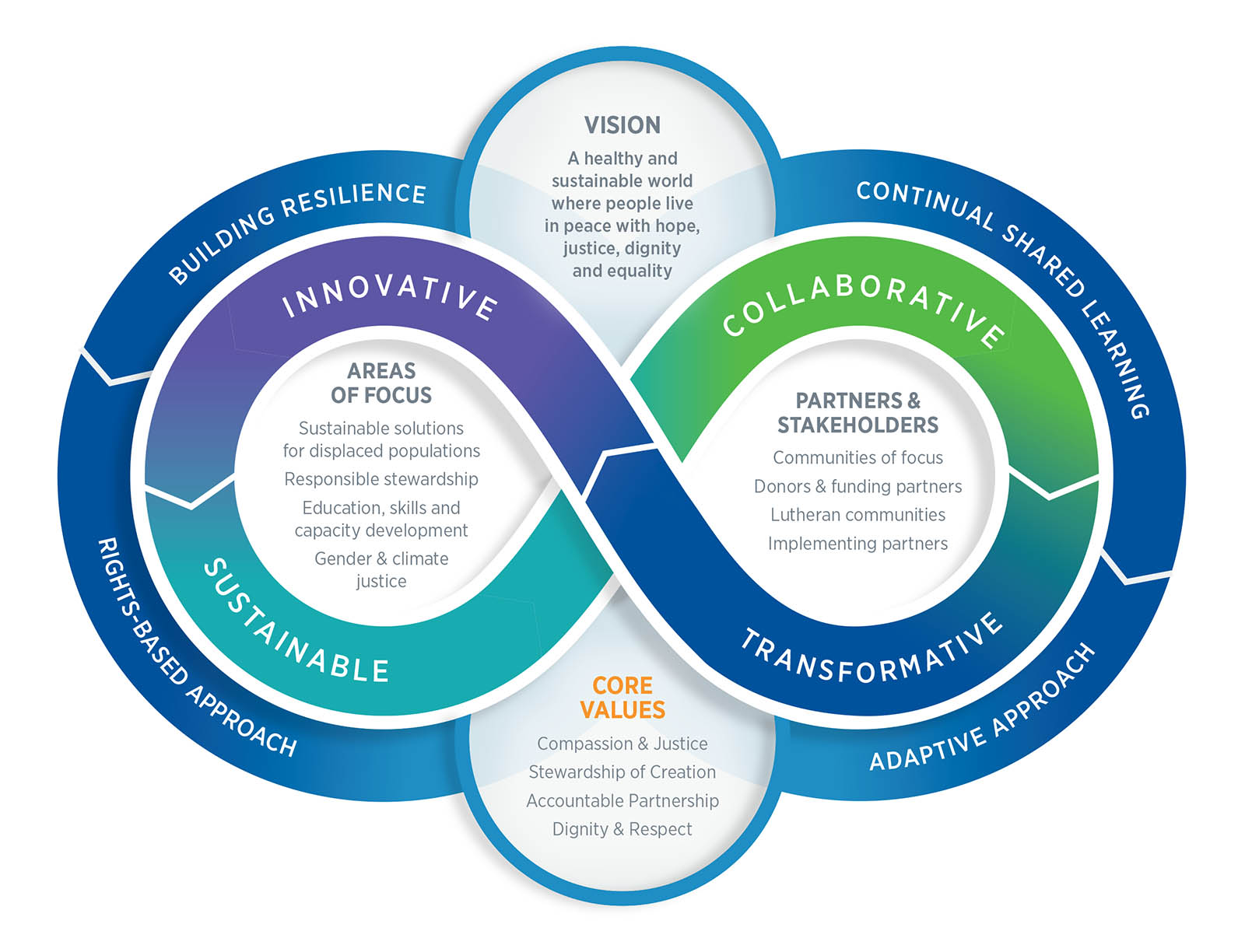 ---
"Canadian Lutheran World Relief works with Canadians to show God's love by providing humanitarian aid to those who need it most. The Board of Directors is extremely pleased to share this strategic compass, which builds on previous strategic plans, establishing a foundation to move forward as a resilient, adaptive and learning organization. The strategic compass provides the framework for our vision of a world where people live in peace, and serves as inspiration for all who support our work."
— Cheryl Bauer Hyde, President of the Board

---

"Instead of a static strategic plan, the strategic compass is designed to be visionary and dynamic. It emphasizes innovation and collaboration, sustainability and transformation, with a commitment to building resilience, to rights-based and adaptive approaches. This is all guided by shared learning as we work together and listen to our partners and stakeholders. The strategic compass allows for transformative, adaptive processes and decisions. In many ways, the strategic compass is an expression of semper reformanda."
— Karin Achtelstetter, Executive Director

---