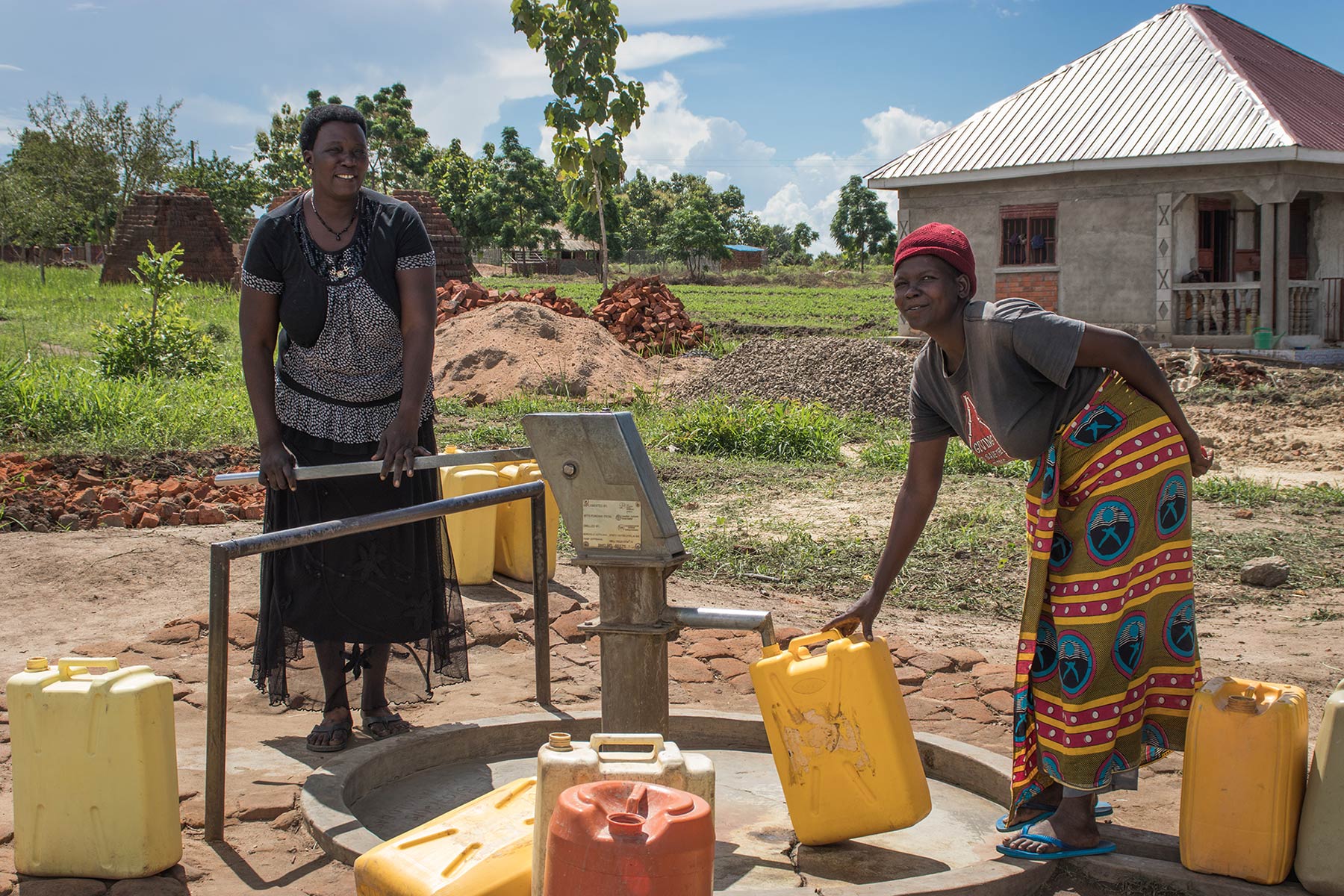 Mar 20, 2018
'Now the children can bathe'
Children in Mokolo East in Boroli, Uganda used to only wash their legs, not their whole bodies. With the nearest well three kilometres away, access to and availability of water was a significant challenge for community members.
Your support made it possible for another well to be established in the community in 2015. Since then, community members have enough water close at hand to meet all their needs including bathing, cooking, drinking and laundry.
"Children are able to wash their uniforms clean," says Masudio Kevin, the chairperson of the group that manages the well. "Now they can bathe."
Uganda hosts more than 1 million South Sudanese refugees* and more are arriving every day. Thanks to your generosity and funding from Global Affairs Canada, CLWR is working with Lutheran World Federation Uganda (LWF) to meet the water needs of both refugees and the members of communities that are hosting them.
The establishment of the additional well in Mokolo East has reduced the distance members of the area's 71 households need to travel to access water. As it's a newer well, it is also easier to pump water since the water source isn't running dry and the pump doesn't need any repairs.
"There's a big difference because this time we don't suffer getting water," says Kevin. "This borehole [well] has enough water."
The water users' committee that Kevin chairs is comprised of nine members. Membership fees are 1000 shillings, or approximately 40 cents, per month and provide unlimited water access. The funds are used to cover any maintenance and repair costs.
This monthly membership fee allows families to save substantially on water costs. At the other well, it cost 100 shillings to fill a 20-litre jerry can. With a family's average use of four 20 litre jerry cans per day—up to ten on laundry day—they could pay close to the month's membership fee for one day's worth of water. To avoid waiting in line, there was an option of paying an "express fee" of 500 shillings per 20-litre jerry can.
Access to water restores balance in women's lives
For Florence Dipio, a resident of Russia East in Boroli, the establishment of the town's third well has helped restore balance to the lives of women and children as they often are responsible for gathering water for the family's daily needs. Often lineups at the well were two hours long with wait times of up to six or seven hours on busy days.
"We used to wake up at three AM, now we have time to sleep and that is a real testimony to women," she says. "If you didn't wake up at three, you didn't have water for the day. Now women have enough time to sleep and have balance."
The well established by CLWR provides water for 54 households, a school and people who come in from out of town during the dry season. It's estimated that about 500 people rely on this well for water, which means it is pumping almost non-stop. Members of the water users' committee that manage this well have approached the district water officer to request the establishment of additional wells to help meet the community's needs.
Water provision in emergency settings
In an emergency setting, such as the initial period when a refugee settlement is being established, the aim is to provide a minimum of 15 litres of water to each person every day. Additionally, the goal is to have a water source within 500 metres of every household.
In the Palorinya settlement in Moyo, Uganda, refugees are receiving 18 litres of water a day—some of which is delivered via water trucks and some of which is accessed through newly established wells, some of which have been established because of your generosity.
There are a few key challenges when access to and availability of water is limited, explains Richard Akena Oloya, who works with Lutheran World Federation Uganda. People's hygiene can be compromised as water is prioritized for drinking and cooking. Women and children can be prevented from engaging in other activities as they are often responsible for gathering water. Misunderstandings and conflicts can arise regarding access to water sources. Finally, construction of shelters for refugees can be delayed as water is needed to create construction materials such as bricks and cement.
As of April 2017, there were 77 wells in the Palorinya settlement. Another 75 are needed to eliminate the need for water to be delivered by truck and to ensure that each household has access to a water source within 500 metres. With your support and funding from Global Affairs Canada, CLWR will continue to work with LWF Uganda to meet this basic need for refugees and members of the communities that are hosting them.
*Article originally posted July 19, 2017. Updated on March 20, 2018.