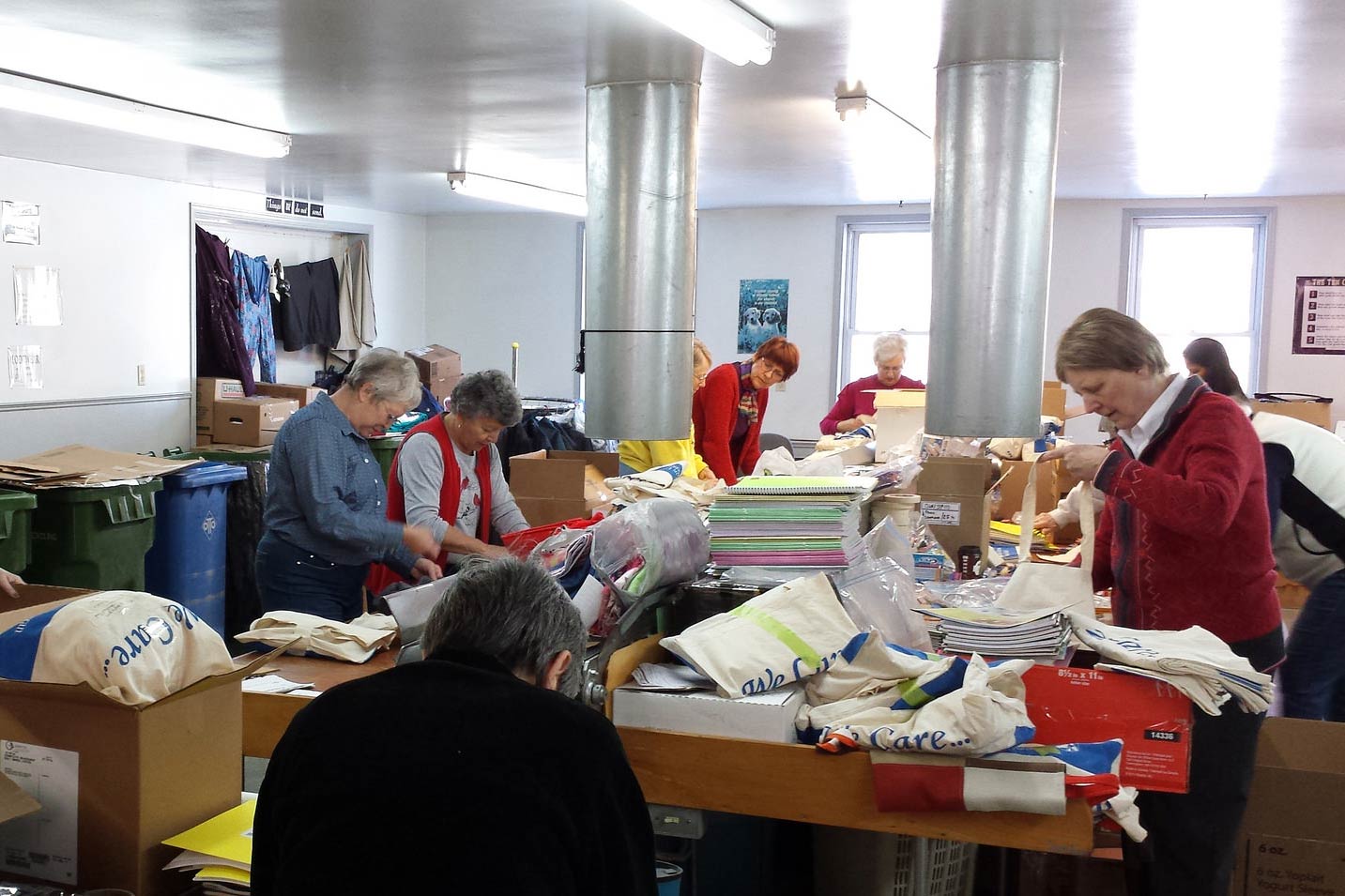 Feb 22, 2017
Ontario Baling Days
From April 24-25, 2017, the Lutheran churches of Ontario are invited to gather in Wallenstein to rally in support of children and families in need. Ontario Baling Days is a highlight on the We Care calendar, and we are pleased to extend an invitation to everyone in Ontario who would like to become involved.
To donate
Beginning April 20, quilts, blankets and We Care kits can be delivered to the Christian Aid Ministries of Waterloo (CAM) at 3260 Bricker School Line, Wallenstein, Ontario. A special shipping label can be downloaded below and should be attached to every box of donations.
*Participating groups need to deliver their goods to the CAM warehouse no later than noon on April 25*
To volunteer
We are also looking for volunteers of all ages to join us April 24 and 25 to help sort, fold, count, tape, weigh, label and load all the supplies into an international cargo container. Ontario Baling days is a great opportunity for fellowship, to learn more about the work of CLWR and to make a significant contribution towards the alleviation of poverty and suffering. Please call (1.800.661.2597) or email CLWR to let us know if you are interested in signing up as a volunteer. Packed lunches are recommended, and a fridge and microwave are available.
This year's shipment will support the Tanganyika Christian Refugee Service (TCRS). TCRS is an Associate Field Program of the Lutheran World Federation Department for World Service (LWF/DWS). It was first established in the former Tanganyika (now a part of Tanzania) in 1964, to primarily provide humanitarian assistance during the time when refugees fleeing civil strife in surrounding countries came to the relatively peaceful Tanganyika. Tanzania's generous policy towards refugees and asylum seekers has since enabled hundreds of thousands of refugees from neighbouring countries to find safe haven.
Since its inception, TCRS has assisted more than two million beneficiaries and has successfully implemented countless projects in more than half of the regions in mainland Tanzania. Today, TCRS continues to provide humanitarian support and sustainable development opportunities to an estimated 300,000 people annually.
To help spread the word about Ontario Baling Days, please consider printing this year's poster for your church bulletin board.
Thank you for your support!
To place a We Care order
Give your donation the We Care touch by ordering We Care bags, backpacks, quilt tags, T-shirts or hygiene buckets! Contact us by phone (1.800.661.2597) or email CLWR to place your orders!
Ontario Baling Days packing slip
Ontario Baling Days poster