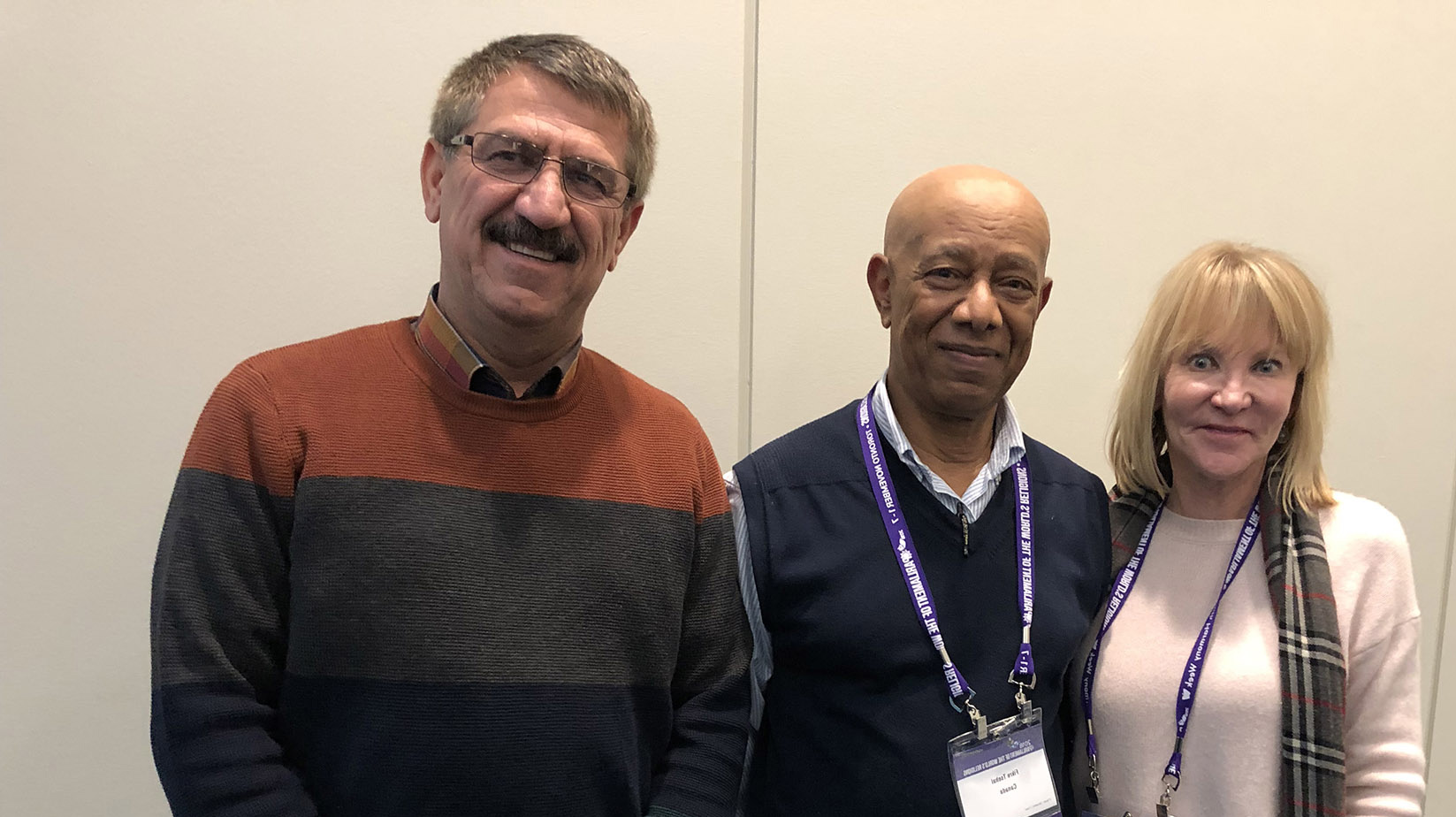 Nov 15, 2018
Refugee sponsorship "an epiphany" for Toronto church
John Longhurst — for CLWR
"It started as a project to help others, but became a project for others to help us."
That's how Rev. Tuula Van Gaasbeek, pastor of St. Philip's Evangelical Lutheran Church in Toronto, described how sponsoring a refugee family changed her congregation.
Speaking at a presentation about interfaith refugee ministry at the November 1-7 Parliament of the World's Religions in Toronto, Van Gaasbeek explained that some in her congregation were initially reluctant to respond to the Syrian refugee crisis.
"Some were concerned about accepting a family from another faith tradition, others were worried about safety and security, some about if they would adapt and find work," she said.
She told them the refugees would be vetted and cleared by the Canadian government before they arrived, and that Canadian Lutheran World Relief (CLWR) would assist with other issues.
The congregation decided to do it. Together with Augsburg Evangelical Lutheran Church in Brampton, they formed the GTA West Lutheran Sponsorship Group, and applied with CLWR to sponsor a family in 2015.
A year later, the family—a Kurdish Muslim family of five from Iraq—arrived. The shopkeeper father, mother and three children ages three, seven and ten years-old had fled Iraq during the conflict in that country, fleeing through Syria to Turkey.
The first thing the group needed to do was find a place for them to live. This proved very difficult since housing is expensive in Toronto, and some landlords were unwilling to rent to refugees.
Unable to find an apartment, St. Philip's converted part of its basement into a living space during the search. It turned out to be a great arrangement, and a blessing in disguise.
"By living in our building, parishioners were able to interact daily with the family," Van Gaasbeek said. "They brought us food during meetings, and the children joined others in Sunday school."
During the two months it took to find affordable accommodations, "friendships were formed and minds began to shift," she shared. "They won the church over. We became friends."
As the church and the family got to know each other, congregants offered help. Retired educators, doctors, lawyers and others became involved in teaching the family English, helping the middle child—a boy on the autism spectrum—get therapy, working on legal issues, and finding the father a job.
It also brought people back to church. One parishioner who stopped attending because she felt alienated from the denomination became re-engaged through assisting the refugees.
"She told us she found God in that family," Van Gaasbeek said.
The congregation also developed new interfaith relationships as it worked with a local Muslim group to help the family with things like translation services and adapting to life in Canada.
For Fikre Tsehai, CLWR's National Refugee Resettlement Coordinator, the experience at St, Philip's is one he would like to see replicated.
Noting there are 68 million displaced people in the world today—even more than following World War Two—he said the crisis is a "call for solidarity" from all faith groups.
"Different faiths share common traditions for helping refugees and displaced people," he said, noting that CLWR works with interfaith partners in Canada like the Iraqi Federation of Refugees.
Faith groups are well-placed to respond, he added, since they have "large constituencies and global reach."
It's important for churches, and other faith groups, to respond since there is a "crisis of compassion, not just numbers," today, he stated.
"Many countries are becoming less welcoming, closing their borders, increasing security and controls, making it harder for people to get access and claim protection."
People of faith need to "stand with the poor and marginalized, working together to provide hope and strive for justice."
As for the family sponsored by St. Philip's, today the father has a job, the kids are happy in school, and the boy on the autism spectrum is doing well.
"It's a wonderful story," Van Gaasbeek said. "We tell everyone who considers taking refugees that it was a great experience partnering with CLWR to help this family."
The experience, she added, "was an epiphany. It helped open our eyes."