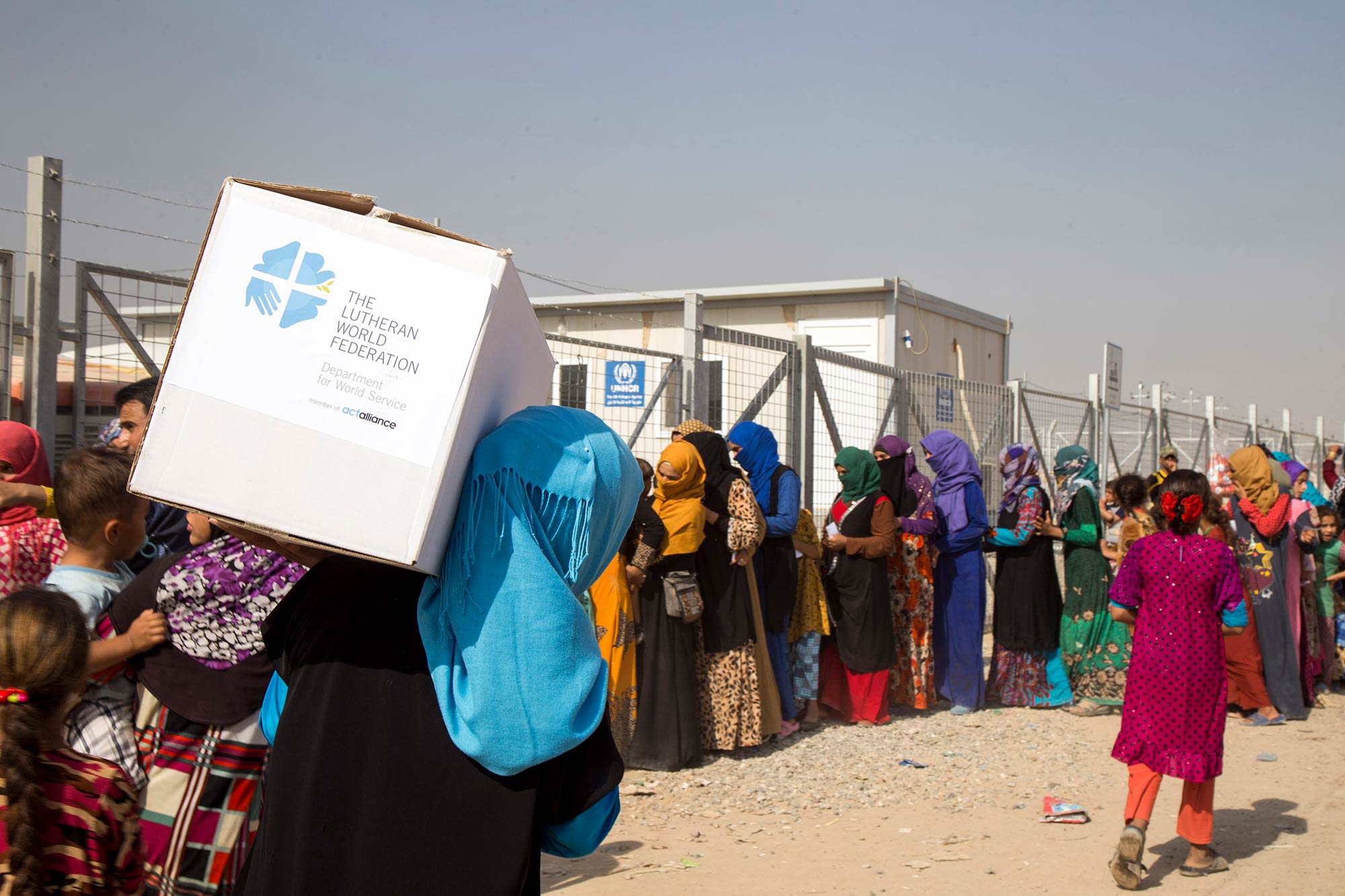 Oct 20, 2016
Responding to the needs of displaced people in northern Iraq
A message from Robert Granke, CLWR's Executive Director
In northern Iraq, a massive humanitarian crisis looms as the ongoing battle to liberate the city of Mosul from the Islamic State in Iraq and the Levant (ISIL) is posed to escalate an already desperate situation. The United Nations and the humanitarian community are preparing for the possibility that up to one million girls, boys, women and men may flee Mosul for safer areas. This mass exodus would place an unprecedented demand on an already overburdened humanitarian network. Mosul is the second largest city in Iraq with a current population of approximately 1.5 million. About half a million people are estimated to have already fled the city.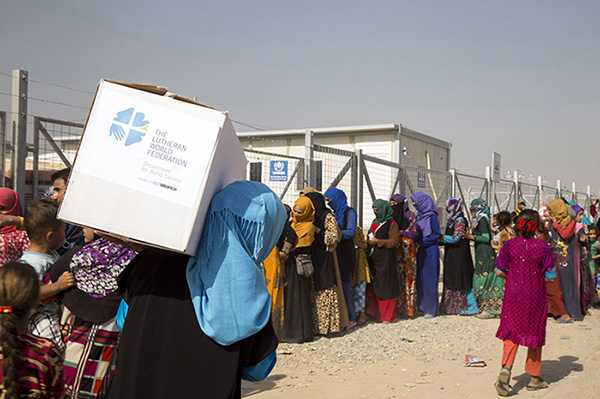 A refugee woman from Mosul carries donations she received in the Dibaga camp, Makhmur, Iraq. Photo: LWF/Seivan M.Salim
CLWR supports the UN High Commissioner for Refugees Filippo Grandi in calling for the highest priority to remain on safeguarding civilians in the midst of this violence. "The more civilians will feel protected inside Mosul, the less they will be displaced," said Grandi. "And for those who feel they have to go because it is dangerous, they have to be treated with dignity, and in full respect of their rights."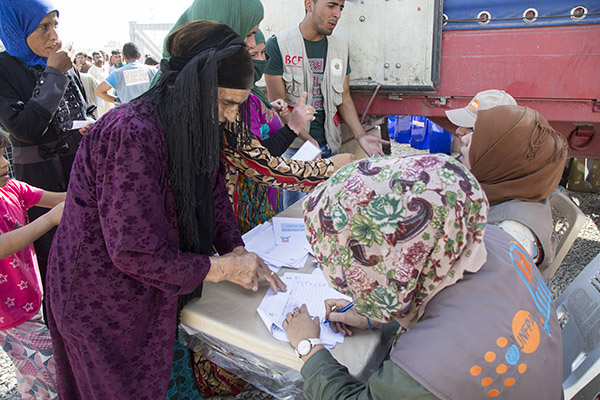 A refugee woman from Mosul signs in to receive donations in Dibaga camp, Makhmur, Iraq. Photo: LWF/Seivan M.Salim
Supported by your donations and funding from Global Affairs Canada, CLWR has worked in partnership with Lutheran World Federation Iraq (LWF Iraq) to assist internally displaced persons (IDPs) in northern Iraq since 2015. Together, CLWR and LWF Iraq have designed and implemented projects to provide much needed support to individuals and families who fled their homes to escape violent persecution. In 2015 we assisted over 15,500 IDP households by upgrading temporary shelters to offer protection from the elements, improving access to public water infrastructure and sanitation facilities, and distributing basic necessities such as mattresses, blankets, kerosene, air coolers, hygiene kits and mother/infant dignity kits. These activities helped Iraqi IDPs cope with extreme winter and summer weather and insufficient hygiene conditions while living in makeshift accommodations.
CLWR and LWF Iraq's current project is working to improve living conditions, provide psychosocial support and build social cohesion for 5,000 vulnerable displaced households and their host communities. This year-long project is distributing hygiene kits, upgrading public water infrastructure and conducting psychosocial support workshops for IDPs who have been traumatized by the violence and upheaval they have experienced. IDPs and the communities that are hosting them also have access to grant funds to support local community activities in order to build social cohesion in communities which are experiencing large influxes of IDPs.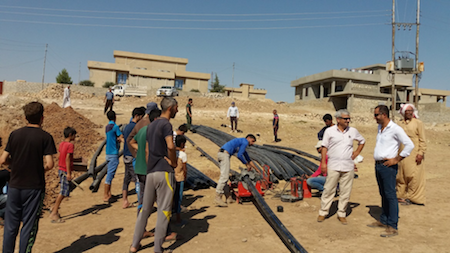 Pipes used to upgrade water infrastructure. Photo: LWF/Seivan M.Salim
CLWR will continue to monitor the evolving situation within the region and search for further opportunities to meet the needs of those displaced.
Your donations to CLWR are helping to provide much needed assistance to those who have been forced from their communities due to violence. If you would like to be a part of our work, please consider a contribution to our Iraq Emergency Relief Fund. Thank you for your continued support.
Sincerely,
Robert Granke
Executive Director