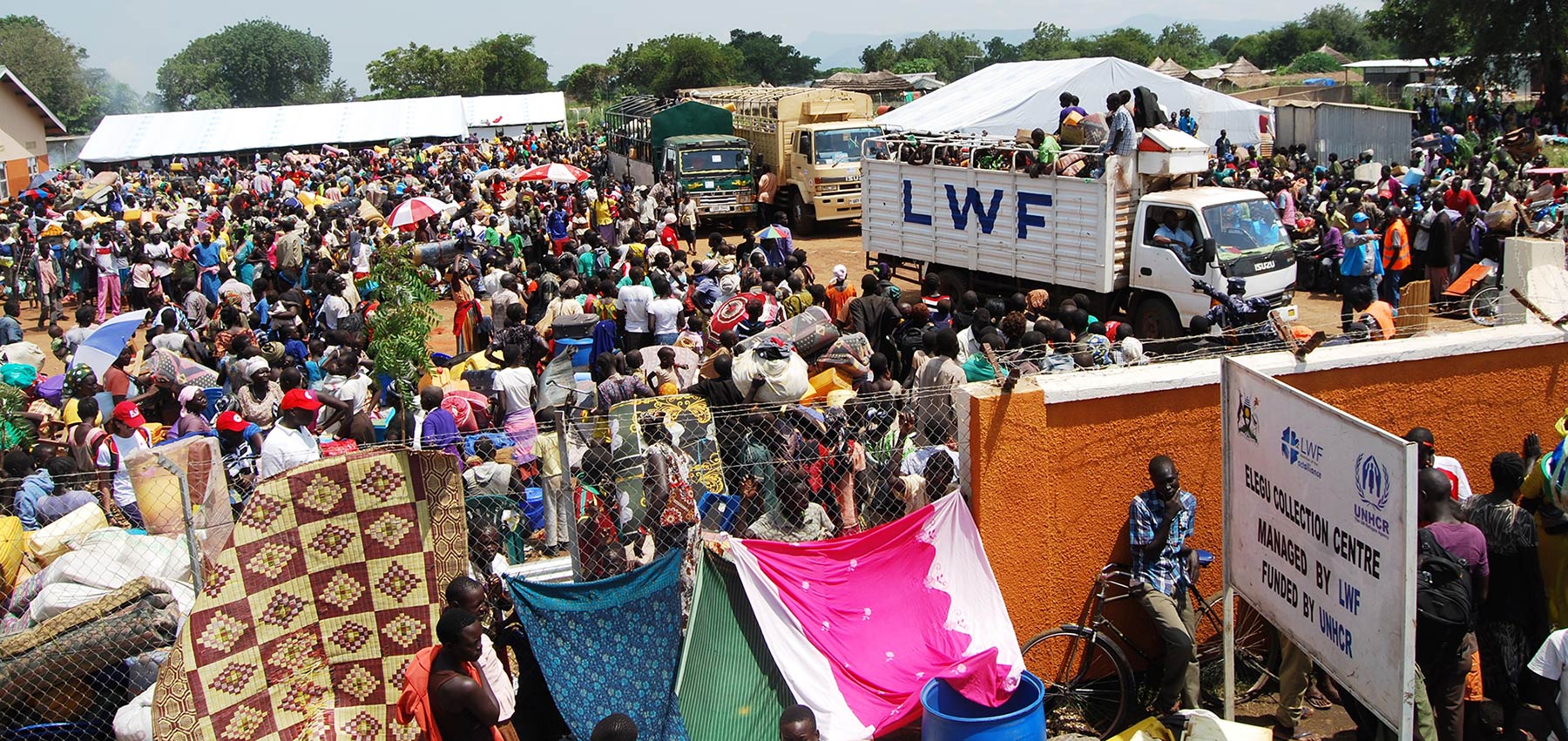 Aug 3, 2016
Responding to the South Sudan refugee crisis
A message from Robert Granke, CLWR's Executive Director
On July 8, 2016 fighting erupted in Juba, South Sudan, between the Sudan People's Liberation Army (SPLA) and the SPLA-In Opposition. Over the course of four days, hundreds of people were killed, and tens of thousands were displaced. Approximately 40,000 people initially fled to churches, schools, and UN and NGO bases seeking protection. In the absence of food and other services, some of the displaced returned home while others moved towards the Ugandan border. Between July 7 and July 25, an estimated 37,491 South Sudanese refugees crossed into Uganda where CLWR partner's Lutheran World Federation-Uganda (LWF-Uganda) has mobilized rapid crisis support at refugee reception centres.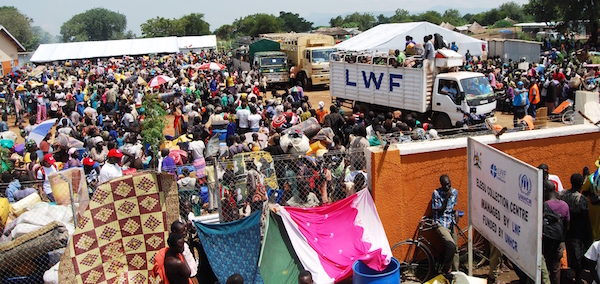 Some 30,000 refugees fled South Sudan after a short but lethal outbreak of conflict, mainly in the capital, Juba, in July 2016. Thousands are crammed into this reception centre at Elegu, in northern Uganda. Photo: Samuel Okiror/IRIN www.irinnews.org
Inside South Sudan, the degree of violence has subsided since early July, but the situation remains unpredictable. Refugees arriving in Uganda have provided reports of ongoing fighting, looting by armed militias, house burning, and civilian murders. Women and children have been separated from husbands or fathers by armed groups who have forcibly recruited them into their ranks.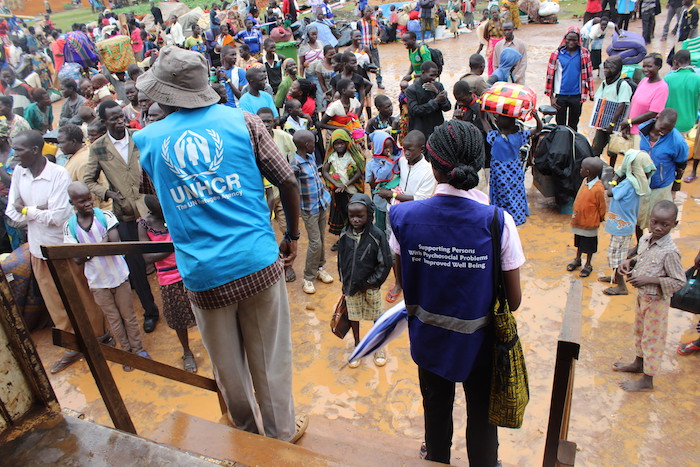 Refugees arrive at Elegu collection center at a rate of 41 a minute. The LWF is warning of an even greater influx in the coming weeks. Photo: LWF/ P. Kikomeko
The rapid influx of refugees into Uganda is straining the capacity of the existing settlements and service centers. At the peak of the inflow, more than 11,000 refugees were staying in Elegu reception centre, northern Uganda, in a compound equipped to shelter only 1,000 people. The UNHCR and its partners, including LWF-Uganda, are struggling to respond, but their resources are severely constrained.
In response to these urgent needs, CLWR is providing an initial installment of $20,000 CAD to the ACT Alliance to meet the basic hygiene, shelter and education needs of new arrivals within Adjumani district, Uganda. CLWR will continue to monitor the evolving situation within the region and search for further opportunities to meet the needs of those displaced.
South Sudanese refugee women in Adjumani, Uganda tending their garden, irrigated as a result of CLWR/LWF-Uganda project activities. Photo: Darci Penrod
Supported by your donations and funding from Global Affairs Canada, CLWR has been actively providing support to South Sudanese refugees in Ethiopia and Uganda through joint projects with LWF since 2012. Working in refugee camps and host communities in Ethiopia, we have enabled the establishment of multi-story gardens, small-scale irrigation systems, increased access to clean water, the construction of an agricultural training center, support for livelihood generation, and environmental conservation and rehabilitation.
Our programming in Adjumani District, Uganda, where thousands of new South Sudanese refugees are arriving daily, supports over 21,000 refugees and host community households. The project is improving living conditions through better access to clean water, latrines, shelter, and essential household items such as energy saving stoves. Young, often unaccompanied refugees are also receiving agricultural and vocational training to help them create income generating opportunities. In January 2016, CLWR's Global Encounter participants had the opportunity to visit Adjumani and experience LWF and CLWR's work in person.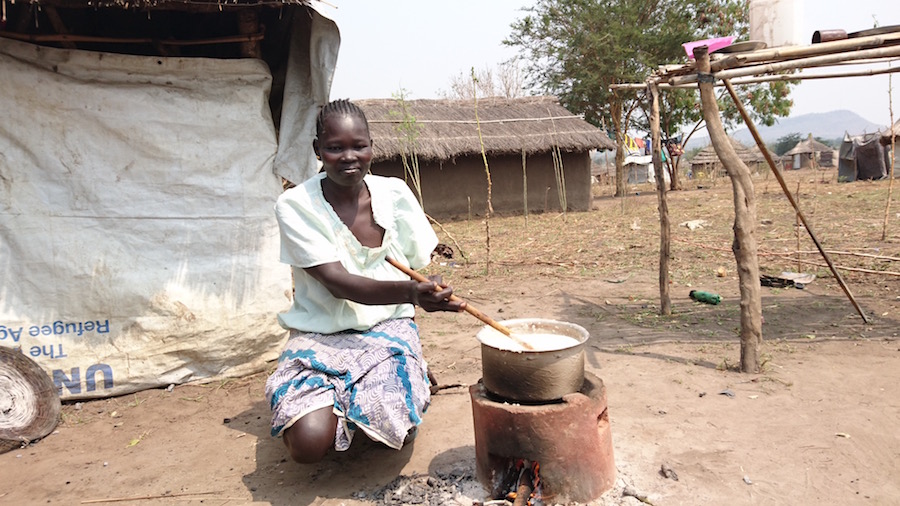 Using an energy efficient stove provided by the CLWR/LWF-Uganda project. Photo: CLWR/H. Platt
Your donations to CLWR are helping to provide relief and hope to thousands of South Sudanese refugees. Working in partnership with LWF, CLWR will continue to respond to the needs of South Sudanese refugees wherever possible. If you would like to be a part of our work, please consider a contribution to our Seeds of Hope campaign. Thank you for your continued support.
Sincerely,
Robert Granke
Executive Director