Jun 20, 2022
Refugee Resettlement Story: Salmon Arm, BC
If, as an African proverb puts it, it takes a village to raise a child, it can also take a whole community to sponsor refugees.
That's the story in Salmon Arm, B.C., where the Deo Lutheran Church, an ELCIC congregation, joined together with other churches, community groups and individuals to sponsor 70 Syrian refugees since 2016.
It's hard to tell where the idea to sponsor refugees from that country started, said Erik Bjorgan, pastor of the church.
"It was in the air," he said. "People saw the picture of the dead little boy on the beach and wanted to do something."
But in order for something to be done, someone first had to organize it. That's where Deo Lutheran came in.
"We knew we couldn't sponsor refugees on our own," said Bjorgan of the church, with a pre-pandemic attendance of 50-60 people.
So they decided to call a meeting in 2016 to invite others in the community to join them; over forty people showed up and the Salmon Arm Refugee Coalition was born.
"We knew we were on to something after that," he said.
Since that time other local churches—Baptist, United, Free Methodist, Catholic, Christian Reformed, and independent congregations—along with community groups like the Rotary Club, businesses, and individuals, have joined in to bring refugees to the interior B.C. community of about 20,000 people.
"All we did was provide an invitation," said Bjorgan, deflecting praise. "We just lit the fuse for something that the community wanted to see happen. The community really stepped up. It was very humbling to be a part of it."
George Zorn is a member of the church and involved in the refugee sponsorship work.
"So many people wanted to do something," he said, adding "it's the most ecumenical thing I've ever done."
For community member Sandrina Harwood, the experience was gratifying.
"We had a common purpose, so it was easy to work together," she said, noting Deo Lutheran provided the nucleus for the effort, including its relationship with Canadian Lutheran World Relief.
"It provided the push to go ahead," she said. "After that, community momentum took over."
Different groups and individuals brought their gifts to the table. Community member Helen Stoddart used to own an antique store. She coordinated the effort to find furniture for the refugee families, often going to garage sales to buy items.
"When people heard what it was for, they often reduced the price or gave it to me for free," she said, adding a local business provided free warehouse space.
The United Church provided space for Muslim worship, while Deo Lutheran let the Syrian refugees use their space for special religious celebrations. They also hosted community fundraising suppers in 2016 and 2019 to raise money to for English language instruction and to reunite family members of the refugees.
"If there was a need, someone stepped up to say, 'we can do that,'" said Zorn. "There was lots of kindness and goodwill."
In the end, "it was like a snowball rolling down a hill," said Bjorgan. "The appetite to help was there."
The lesson for church members is when faced with a huge need, "we don't have to do it alone," he said.
The effort was also good for Deo Lutheran and the other churches.
"It blew the doors wide open for the churches as we engaged with the community while sponsoring refugees. It brought the churches and the community close together. It revealed what we could do together when a community is at its best," he said.
Added Harwood: "The churches have been amazing. It was good for us all to work together."
Thinking of the refugees who came to Salmon Arm, Zorn said "the community as a whole is richer for these new Canadians being here. They are a gift to us."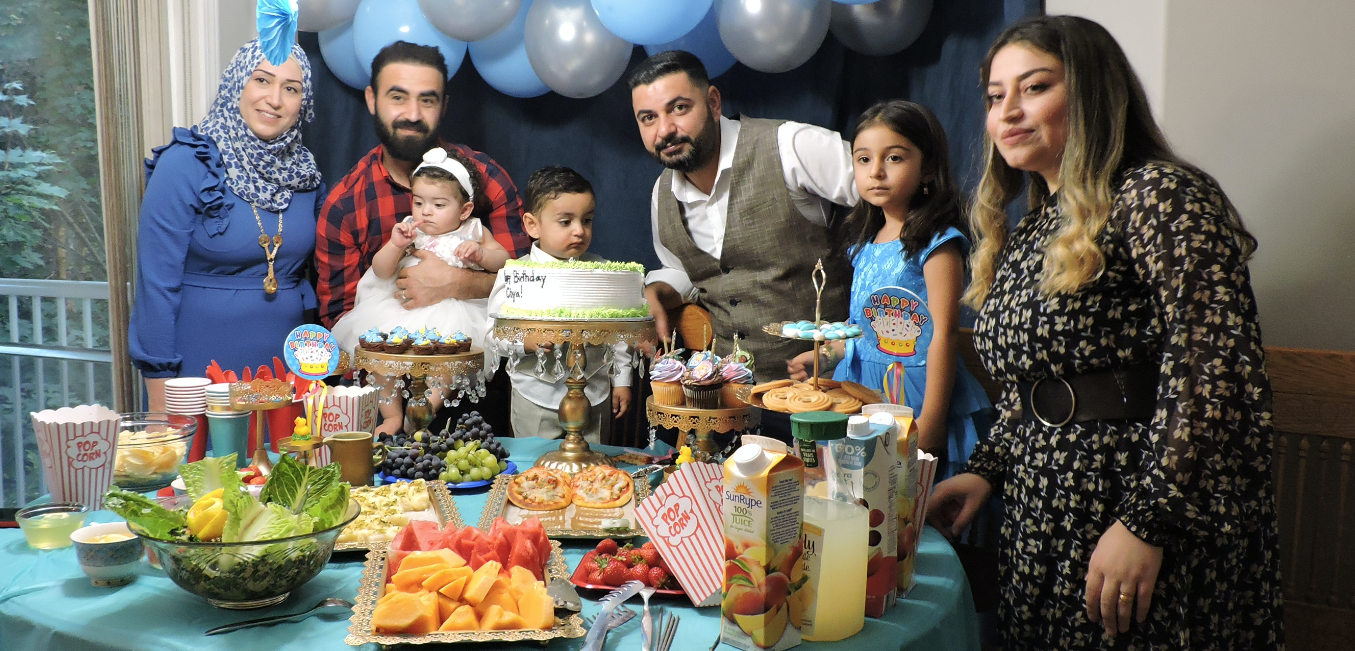 Above: A Kurdish-Syrian refugee family whose resettlement in Canada in 2021 was supported by the Salmon Arm community, celebrate a birthday. Photo by Helen Stoddart.
Top photo: The Salmon Arm community greeting a refugee family at the Kelowna airport in 2016. Photo by George Zorn.
---
Did your church sponsor a refugee to come to Canada through CLWR? We'd love to hear (and share!) your story! Please email us at clwr@clwr.org
You can find out more about helping refugees settle in Canada at clwr.org/rr
To support CLWR's work, please visit clwr.org/donate