Mar 8, 2019
Skills training helps struggling family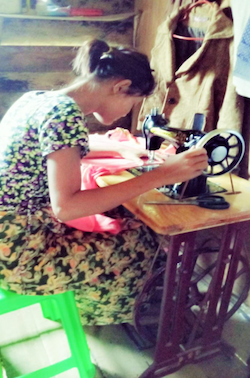 Your gifts provide life-saving aid in times of crisis - but you're also changing lives in the long-term by empowering people whose lives have been disrupted by conflict, disaster and poverty. In communities around the world, there are creative, hard-working people who just needed the opportunity that you're giving them!
Khin Mar Htay was one of the millions of people displaced by conflict in recent years in Myanmar. She left school to help support her family when her father could no longer work - when she was just in grade four. She struggled for years to provide for the family with a casual job and limited education, until she heard about training in tailoring and dressmaking being offered with your support.
"I was really happy and thankful. This training was one step of my dream. I learned basic knowledge and skills such as measuring, cutting, calculating formulas and drawing designs, then learned advanced skills such as how to make shirt and coat collars and pants. Training gave me an opportunity to develop my confidence. Due to this confidence, I applied to a dressmaking shop. Now, I have a job and the capacity to support my family with dignity, and I will keep enhancing my capacity and income in the future!"
Thank you for giving Khin the chance to shape a new future for her family!