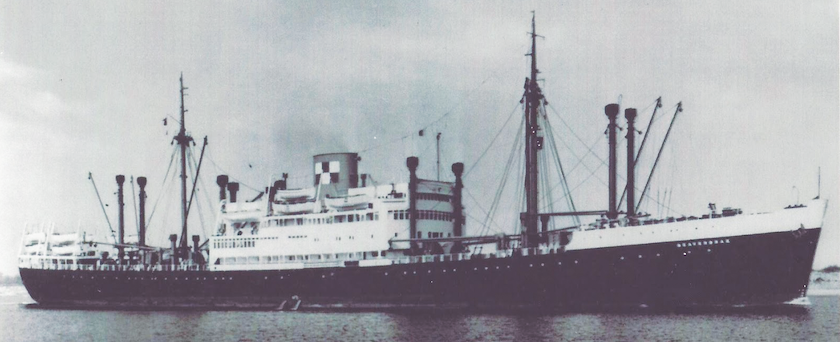 Apr 16, 2021
WWII refugee's family continues tradition of giving
It was a loud knock on the door that changed everything for Rudy Knippelberg and his family.
"The Russians are coming! You must leave!" shouted a German soldier before rushing away.
It was January 1945, and the final Soviet offensive against Nazi Germany on the eastern front in East Prussia (now Poland) had begun.
Fearing for their safety, seven-year-old Rudy and his family—six siblings, father and pregnant mother—began loading all of their possessions into two wagons for their hurried and frantic flight west.
Even by East Prussian standards, where winter was invariably hard, it was an intensely cold month as hundreds of thousands of refugees fled the fighting.
The Knippelberg family, led by Rudy's mother, Rosina—his father and other men stayed behind to bring the animals along later—spent days and nights in the biting winter wind, making slow, painful progress on snow-covered roads.
The journey took its toll, especially on the elderly and the young. Many died along the way. Rudy remembers how cold he was, how his mother kept shaking them to make sure they were alive.
It was a terrifying and tragic trip. But Rudy and his family miraculously made it to Germany.
"That's what he always said, it was a miracle," says his widow Ruth, 82, recalling how Rudy described the escape.
"He remembered how they looked for shelter wherever they could find it, picking maggots out of his food, and how the family picked lice out of each other's hair," she says.
"He didn't talk much about that time," she adds. "He always just said 'We did what needed to be done.'"
The family was blessed; they made it to the western half of Germany, where they found shelter with a farmer. That meant they were in the Allied zone of occupation when the war ended, allowing them to come to Canada with the help of Canadian Lutheran World Relief.
For Rudy, who died in 2003 at the age of 65, that trip on the Beaverbrae in 1949 was an exciting adventure.
Then 11 years old, he remembered not being as seasick as the rest of the family and wandering around the ship. "He was excited to be on such a big ship," Ruth says. "It was a big adventure."
After arriving in Canada—where Rudy had his first-ever taste of ice cream—they took the train to Oliver, where relatives lived and offered to host them. The family worked in the orchards, purchased their own home, and started to build a new life in a new country.
A new life in Oliver was hard for a kid from Germany who spoke little English.
"He remembered being teased and ridiculed by other boys," Ruth says. But that all changed when they saw him play soccer. "Suddenly, everyone wanted him on their team," she says, adding, "Rudy would often say 'Soccer saved me.'"
Ruth and Rudy met in Oliver; her father was pastor of St. Paul Lutheran, where Rudy's family attended. They married in 1959.
Rudy became a teacher, teaching elementary and high school physical education and math. Among his proudest achievements were coaching students who went on to become Olympic athletes.
All through their life together, they supported CLWR so that other families in crisis could be helped to come to Canada, just as Rudy's once had.
"He always remembered what

CLWR

had done for him and his family, and he wanted to give back to others," Ruth says.
Today Ruth, who also had a career in teaching, is a member at Grace Lutheran Church in nearby Osoyoos. She is continuing the family tradition of supporting by buying a Gift from the Heart for her six grandchildren and four great-grandchildren every Christmas.
"It's to remind them of how CLWR helped us, and how we can help others," she says, adding "there was always a special place in Rudy's heart for CLWR. He had a big heart for people in need. CLWR been an important part of our family for our whole lives."
From 1946-67, CLWR assisted 22,000 German Lutherans to come to Canada, many of them on the Beaverbrae, extending to them $3.5 million in travel loans.
Did you or a family member come to Canada on the Beaverbrae? We'd love to hear (and share!) your story! Please email us at clwr@clwr.org
To support CLWR's work, please visit clwr.org/donate
You can find out more about helping refugees settle in Canada at clwr.org/refugees