Apr 7, 2018
A young boy's dream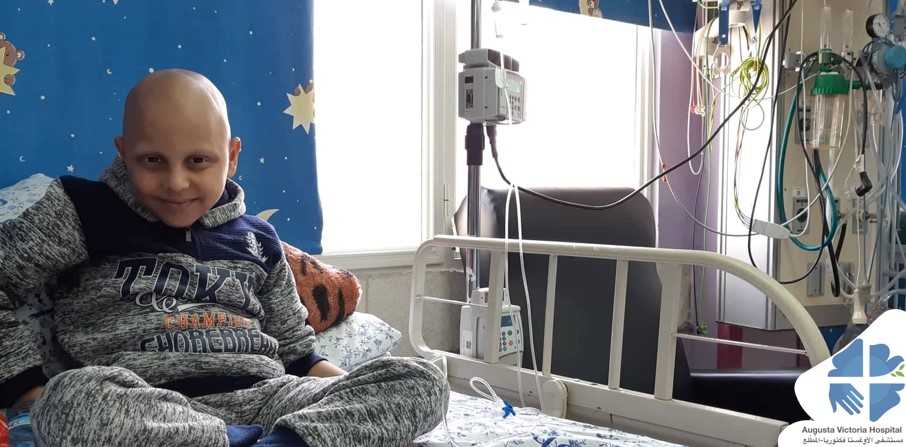 Growing up, Mohammed* was like every other child—playing and jumping and dreaming big dreams. His whole world changed when he was diagnosed with pelvic cancer at the age of seven. Thanks to your support, Mohammed received life-saving chemotherapy at Augusta Victoria Hospital (AVH) in East Jerusalem.
AVH, a program of Lutheran World Federation Jerusalem since 1950, provides specialty care for Palestinians living in Jerusalem, the West Bank and Gaza Strip. The 161-bed hospital's services include a cancer centre, a dialysis unit and a pediatric centre. Plans are underway to build a 400-bed Elder Care and Palliative Medicine complex.
Mohammed, who lives with his parents and two sisters in Gaza, spent 10 months in the hospital receiving treatment. His grandmother visited him every two weeks and he spoke with his parents every day by phone as they were unable to visit him. While he was in the hospital, he missed his family and friends and dreamed of going to the sea and eating shawarma.
For his birthday last year, Mohammed wished that God would heal him. In February 2018, his prayers were answered and he left the hospital and returned home to his family.
After being diagnosed with, receiving treatment for, and being healed from cancer, Mohammed, now eight, has a new dream.
"I hope to become a doctor in the future to cure all patients," he says. "And to tell them that cancer does not mean death and that the children of Palestine do not die."
Your generosity helps bring dreams of better health to life. Thank you for supporting Augusta Victoria Hospital!
With files from Augusta Victoria Hospital and Lutheran World Federation
*Last name withheld
Read more about Augusta Victoria Hospital's cancer centre
Video: Learn more about Augusta Victoria Hospital and the plans to build an Elder Care and Palliative Medicine complex