February 24, 2023, marks one year since the invasion of Ukraine. CLW

R's partners continue to deliver life-saving aid to families who have lost everything. Your support has provided incredible hope and help — thank you for your compassion.
As of February 2023, over 8 million refugees have fled Ukraine and over 6 million are internally displaced. Most refugees from Ukraine have fled to neighbouring countries, while some have sought safety elsewhere in Europe. As a high proportion of these refugees are women and children, protection activities alongside humanitarian assistance, have become vital. Inside Ukraine, homes and critical infrastructure have been damaged and destroyed. Outages of electricity, heating and water have been seen in many areas, while other services such as health care, public transport and internet connectivity have also been disrupted. As a result, many people find themselves without accommodation and unable tomeet their basic needs, including for food, water, and medicine.
CLWR partners in the ACT Alliance continue to respond in Ukraine and the region to meet humanitarian needs such as food, shelter, emergency supplies and trauma support and winterization support as well as protection activities and supporting local organizations to provide vital services.
CLWR's response also supports the vital coordinating work of Lutheran World Federation (LWF). Inside Ukraine and in neighbouring countries, as well as elsewhere in Europe, members of LWF are mobilizing to respond to the crisis by providing humanitarian assistance to those in need and providing longer-term assistance to refugee populations in locations throughout Europe.
Our local partners, including Hungarian Interchurch Aid (HIA), have provided the following support to date:
Delivering 1,631 metric tons of food and non-food items including sanitary and childcare products, household items for shelters, generators, medicine, etc
Delivering $9.8 million worth of medical equipment
Establishing Refugee Support Points Hungary and Ukraine to provide links to safe transport and food for refugees
Establishing Child Friendly Spaces in Budapest as hubs for displaced families to access information and basic necessities
Establishing transitional shelters in Hungary and Ukraine
Implementing a winterization action plan to protect vulnerable populations from the rapidly advancing cold
Providing grants to Ukrainian civil society organizations providing community-based services
Providing multi-purpose cash assistance and cash for protection to individuals
Protecting and promoting psychosocial wellbeing through activities such as free legal counselling, resilience-building community workshops, sports and art programmes and psychotherapy
Supporting the renovation of critical infrastructure such as schools and healthcare facilities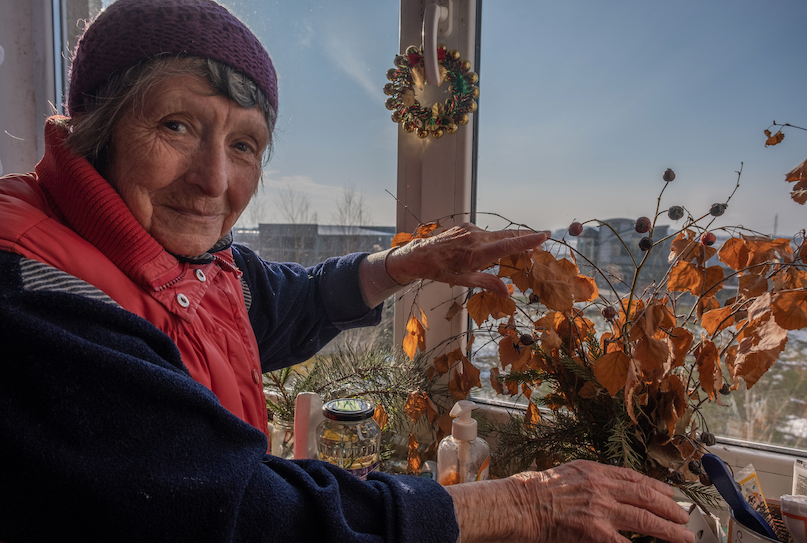 After a harrowing train journey to Lviv, they moved on to Mukachevo, and finally to Vynohradiv, where she is now one of 52 residents in a long-term shelter provided by ACT member Hungarian Interchurch Aid. "We were welcomed and sheltered and supported in Vynohradiv. The people here respect us," she said, "I am 200% satisfied here." Photo: Simon Chambers/ACT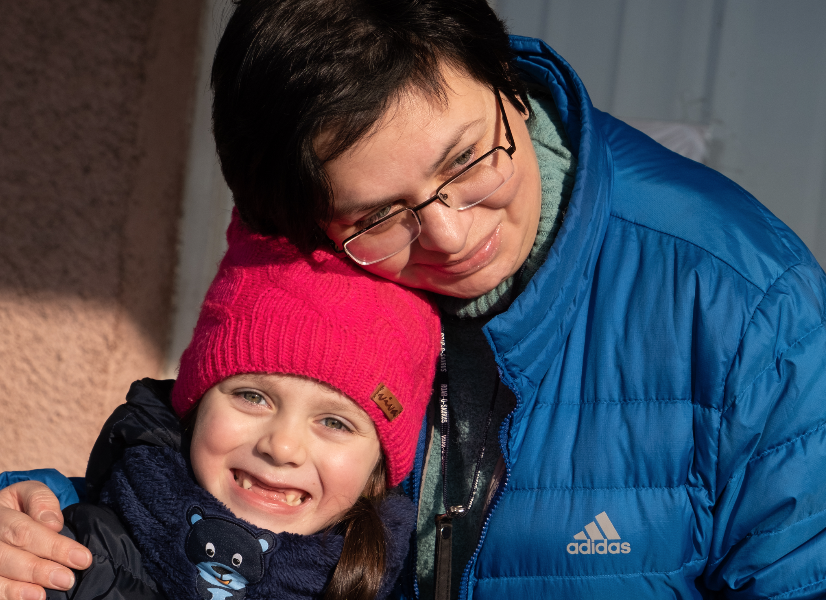 Galina and Solomia fled to Vynohradiv in the western part of Ukraine, near the Hungarian border. They now live in a shelter provided by ACT member HIA, who are also supplying food and hygiene supplies to their family and others living in the area. Since fleeing to Vynohradiv, Solomia, who became mute from the trauma, has received seven months of therapy and is now talking again. Photo: Simon Chambers/ACT
Ukraine appeal
Donate online to provide support for those affected by the crisis in Ukraine
Encrypted & Secure Payment.